Charting Uncharted Waters: Participatory Budgeting as a Novel Transitional Justice Guarantee of Non-Recurrence of the Conflict in Colombia?
Dian Dajer Barguil

Centre for Socio-Legal Studies. University of Oxford
Resumen
After fifty years of war, Colombia is about to start the implementation of an ambitious peace deal between the Government and the FARC-EP guerrilla. The final Peace Agreement between the parties surpass transitional justice measures implemented before, to embrace guarantees of non-recurrence that are non-usual suspects in the transitional justice scenario. One of these instruments is participatory budgeting. Yet, although the Peace Agreement regards participatory budgeting as a guarantee of non-recurrence, the national and international transitional justice theory has no previous conceptualization of participatory budgeting as a transitional justice mechanism. In this scenario, the paper explores and discusses the theorization of participatory as a transitional justice mechanism in Colombia. To do so, the article places participatory budgeting in a wider theoretical debate regarding transitional justice, to lay the foundations for a further systematic analysis of empirical data. The chapter is based on a review of the literature on transitional justice, democratic innovation, participatory budgeting, and citizen participation. Overall, the studies suggest that more research is needed to understand the nuances of citizen participation and the role of technology in changing institutional environments in post-conflict scenarios, and that the label "guarantee of non-recurrence" requires more conceptual elucidation.Furthermore, the paper identifies four strands in the transitional justice literature that should be weighed in more detail with an evidence-based research, to explore the conceptualization of participatory budgeting under a transitional justice lens: (i) the inclusion of participatory approaches to transitional justice studies; (ii) the relationship between transitional justice and economic, social and cultural rights; (iii) the links between transitional justice and development; and (iv) the theorization of the guarantees of non-recurrence. 
Descargas
La descarga de datos todavía no está disponible.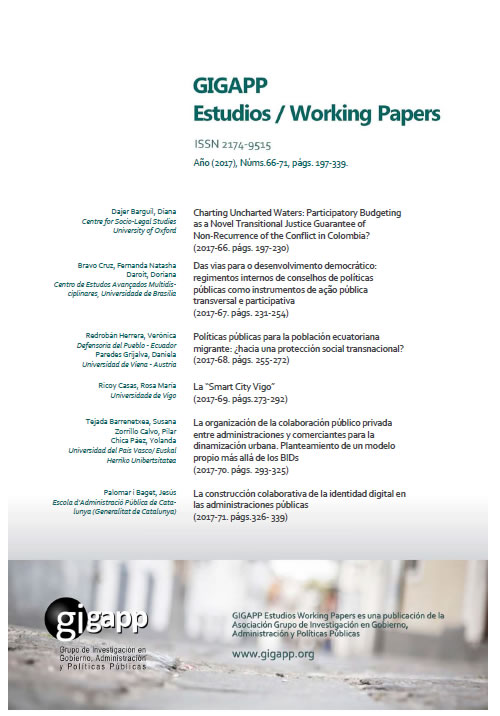 Cómo citar
Dajer Barguil, D. (2017). Charting Uncharted Waters: Participatory Budgeting as a Novel Transitional Justice Guarantee of Non-Recurrence of the Conflict in Colombia?. GIGAPP Estudios Working Papers, 4(66-71), 197-230. Recuperado a partir de https://www.gigapp.org/ewp/index.php/GIGAPP-EWP/article/view/71
Sección
Artículos/Articles
Derechos de autor 2017 Dian Dajer Barguil
Esta obra está bajo licencia internacional
Creative Commons Reconocimiento-NoComercial-CompartirIgual 4.0
.
Aquellos autores/as que tengan publicaciones con esta revista, aceptan los términos siguientes:
a. Los autores/as conservarán sus derechos de autor y garantizarán a la revista el derecho de primera publicación de su obra, el cuál estará simultáneamente sujeto a la Licencia de reconocimiento de Creative Commons Attribution-NonCommercial-ShareAlike 4.0 International (CC BY-NC-SA 4.0) que permite a terceros compartir la obra siempre que se indique su autor y su primera publicación esta revista.
Con esta licencia de acceso abierto, los lectores (usuarios) pueden:
Compartir — copiar y redistribuir el material en cualquier medio o formato
Adaptar — remezclar, transformar y construir a partir del material

Bajo los siguientes términos:
Atribución — usarios deberán dar crédito de manera adecuada, brindar un enlace a la licencia, e indicar si se han realizado cambios. Puede hacerlo en cualquier forma razonable, pero no de forma tal que sugiera que usted o su uso tienen el apoyo de la licenciante.

NoComercial — usuarios no puede hacer uso del material con propósitos comerciales.

CompartirIgual — Si remezcla, transforma o crea a partir del material, usuarios deben distribuir su contribución bajo la misma licencia del original.

Sin restricciones adicionales: los usuarios no pueden aplicar términos legales o medidas tecnológicas que restrinjan legalmente a otros de hacer cualquier cosa que permita la licencia.
b. Los autores/as podrán adoptar otros acuerdos de licencia no exclusiva de distribución de la versión de la obra publicada (p. ej.: depositarla en un archivo telemático institucional o publicarla en un volumen monográfico) siempre que se indique la publicación inicial en esta revista
c. Se permite y recomienda a los autores/as difundir su obra a través de Internet (p. ej.: en archivos telemáticos institucionales o en su página web) antes y durante el proceso de envío, lo cual puede producir intercambios interesantes y aumentar las citas de la obra publicada. (Véase El efecto del acceso abierto).