Enmarcando la Guerra. Agenda Setting y Framing en torno al conflicto bélico Rusia-Ucrania de 2022.
Estudio de caso de las agendas digitales de Rusia Today y BBC News
Palabras clave:
Agenda Setting, Encuadres, Medios digitales, Redes sociales, Framing
Resumen
El presente artículo tiene como objetivo analizar la cobertura mediática del conflicto Ucrania-Rusia en las agendas de los medios digitales BBC y Rusia Today en sus plataformas de Twitter y Facebook, durante el 14 de febrero al 14 de marzo del año 2022. Se toman como base los encuadres genéricos trabajados por Semetko y Valkenburg (2000) para comprender, partiendo de las teorías de agenda setting y framing, el rol de los medios en contextos de conflictos bélicos y su potencial paralelismo y polarización hacia una de las partes involucradas en esta problemática. El corpus está compuesto por 408 unidades de análisis y la metodología a aplicar es el análisis de contenido (Neunendorf, 2002). El tratamiento informativo del conflicto bélico de Rusia y Ucrania presentó características de paralelismo político, en función a la construcción de un Nosotros-Ellos como principal recurso confrontativo. Estos dos medios polarizaron el tema omitiendo las causas estructurales del conflicto, centrándose en elementos sensacionalistas (BBC) y argumentos de soberanía nacional (Rusia Today).  
Descargas
La descarga de datos todavía no está disponible.
Citas
Alhabash, S., & McAlister, A. (2015). Redefining virality in less broad strokes: Predicting viral behavioral intentions from motivations and uses of Facebook and Twitter. New Media & Society, 17(8), 1317-1339. doi:https://doi.org/10.1177/1461444814523726
Álvarez, M. (2019). Estado del Arte: Posverdad y Fake News. Madrid: Universidad Nacional de Educación a Distancia. Retrieved from https://www.researchgate.net/publication/331647881_Historia_de_la_Posverdad_Origen_y_evolucion
Aruguete, N. (2017). Agenda setting y framing: un debate teórico inconcluso. Más Poder Local(30), 36-42. Retrieved from https://ri.conicet.gov.ar/bitstream/handle/11336/68048/CONICET_Digital_Nro.e93f54a9-9845-4db2-b18f-8a44327ec065_A.pdf?sequence=2&isAllowed=y
Aznar, F. (2018). Cuadernos de Estrategia 197. La posverdad. Seguridad y defensa. In Instituto Español de Estudios Estrategicos, El mundo de la posverdad (pp. 21-79). Madrid: Ministerio de Defensa. Re-trieved from https://www.ieee.es/Galerias/fichero/cuadernos/CE_197.pdf
Bachmann, I. (2005). Estudio en la prensa económica: La contaminación del discurso periodístico. Cuadernos.info, 18.
Berger, J. (2014). Word of mouth and interpersonal communication: A review and directions for future research. Journal of Consumer Psychology.
Boczkowski, P., & Mitchelstein, E. (2013). The news gap. When the information preferences of the media and the public diverge. Cambridge: MIT press.
Bode, L. (2016). Political news in the news feed: Learning politics from social media. Mass Communica-tion and Society, 19(1), 24-48. doi:https://doi.org/10.1080/15205436.2015.1045149
Brady, W., Wills, J., Jost, J., Tucker, J., & Van Bavel, J. (2017). Emotion shapes the diffusion of moralized content in social networks. Proceedings of the National Academy of Sciences of the USA (PNAS), 114(28), 7313-7318. doi:https://doi.org/10.1073/pnas.1618923114
Capella, J. S.-K., & Albarracín, D. (2015). Selection and Transmission Processes for Information in the Emerging Media Environment: Psychological Motives and Message Characteristics. Media psychol-ogy, 18(3), 396-424. doi:10.1080/15213269.2014.941112
Castells, M. (1996). La era de la información. México D.F.: Siglo XXI.
Chomsky, N., Hernan, E., & Castells, C. (1990). Los guardianes de la libertad. Propaganda, desinformación y conceso en los mediosde comunicación de masas. Barcelona: Crítica, D.L.
Cue, A. (2014). La federación rusa y la crisis de Ucrania. El cotidiano, 89-96.
de Vreese, C. (2003). Framing Europe : television news and European integration. Ámsterdam: Amster-dam School of Communication Research. Retrieved from https://dare.uva.nl/search?identifier=02f3348a-86a6-42f9-a909-cc5e60860ec1
Entman, R. (1993). Framing: Toward Clarification of a Fractured Paradigm. Journal of Communication, 43(4), 51-58. doi:https://doi.org/10.1111/j.1460-2466.1993.tb01304.x
Gabielkov, M., Ramachandran, A., Chaintreau, A., & Legout, A. (2016). Social Clicks: What and Who Gets Read on Twitter? ACM SIGMETRICS Performance Evaluation Review, 44(1), 179-192. Retrieved from https://doi.org/10.1145/2964791.2901462
Galtung, J., & Holmboe, M. (1965). The Structure of Foreign News. Journal of Peace Research, 2(1), 64-91. Retrieved from https://www.jstor.org/stable/423011
Gamson, W., & Modligliani, A. (1989). Media Discourse and Public Opinion on Nuclear Power: A Construc-tionist Approach. American Journal of Sociology, 95(1), 1-37. Retrieved from https://www.jstor.org/stable/2780405
Garcia Marin, J., & García Luengo, O. (2009). "Politics, media and war coverage: An indexed relation?". In T. B. (eds.), , The moral dimension of asymetrical warfare: counter–terrorism, democratic values and military ethics (pp. 363–380). Amsterdam: Brill Nijhoff.
García-Perdomo, V., Salaverría, R., Kilgo, D., & Harlow, S. (2017). To Share or Not to Share. The influence of news values and topics on popular social media content in the United States, Brazil, and Argenti-na. Journalism Studies, 19(8), 1180-1201. doi:https://doi.org/10.1080/1461670X.2016.1265896
González, M. (2017). La <> en el plebiscito por la paz en Colombia. Nueva Sociedad(269), 114-126. Retrieved from https://static.nuso.org/media/articles/downloads/10.TC_Gonzalez_269.pdf
Gutiérrez, A. (2017). Las claves del conflicto entre Rusia y occidente después de Crimea y el conflicto con Ucrania. Foro internacional, 356-388.
Habermas, J. (1997[1973]). Teorías de la verdad. In M. Frápolli, & J.-A. Marín, Teorías de la verdad en el siglo XX (pp. 543-596). Technos: Madrid.
Harber, K., & Cohen, D. (2005). The Emotional Broadcaster Theory of Social Sharing. Journal of Language and Social Psychology, 24(4), 382-420. doi:https://doi.org/10.1177%2F0261927X05281426
Heimbach, I., Schiller, B., Strufe, T., & Hinz, O. (2015). Content Virality on Online Social Networks: Empir-ical Evidence from Twitter, Facebook, and Google+ on German News Websites. HT '15: Proceedings of the 26th ACM Conference on Hypertext & Social Media (pp. 39-47). Association for Computing Machinery: New York.
Hermida, A. (2015). Tell Everyone: Why We Share and Why It Matters. Vancouver: University of British Columbia Library. doi:https://dx.doi.org/10.14288/1.0074593
Hong, H. (2013). The Effects of Human Interest Framing in Television News Coverage of Medical Advanc-es. Health Communication.
Igartua, J. (2006). Métodos cuantitativos de investigación en comunicación. Barcelona: Editorial Bosch.
Khuntia, J., Sun, H., & Yim, D. (2016). Sharing News Through Social Networks. International Journal on Media Management, 18(1), 59-74. doi:https://doi.org/10.1080/14241277.2016.1185429
Lippmann, W. (1964[1949]). La opinión pública. Buenos Aires: Compañía General Fabril Editora.
Lippmann, W. (2003[1922]). La Opinión Pública. Madrid: Cuadernos de Langre.
Lombana-Bermúdez, A., Gómez, L., Vallejo, M., & Pino, J. (2022). Cámaras de eco, desinformación y campañas de desprestigio en Colombia. Un estudio de Twitter y las elecciones locales de Medellín en 2019. Política y Gobierno, 29(1), 1-30. Retrieved from https://www.researchgate.net/publication/359495562_Camaras_de_eco_desinformacion_y_campanas_de_desprestigio_en_Colombia_Un_estudio_de_Twitter_y_las_elecciones_locales_de_Medellin_en_2019
Lyotard, F. (2000). La condición postmoderna. Madrid: Cátedra.
Martínez, M. (2018). La Organización del Tratado del Atlántico Norte y la ampliación al Este: ¿hasta Ucra-nia? Revista de Relaciones Internacionales, Estrategia y Seguridad, 123-151.
Matters, J. (2009). What's in a Frame? A Content Analysis of Media Framing Studies in the World's Leading Communication Journals, 1990-2005. Journalism & Mass Communication Quarterly, 86(2), 349-367. doi:https://doi.org/10.1177/107769900908600206
McCombs, M. (2006[1972]). Estableciendo la agenda. El impacto de los medios en la opinión pública y el conocimiento. Barcelona: Paidós.
McDougall, J., & Pollard, C. (2012). Media Studies: The Basics. Londres: Routledge.
Miralles, A. (2001). Periodismo, opinión pública y agenda ciudadana. Bogotá: Grupo Editorial Norma.
Moreno, J., & García, J. (2020). Conflictos armados y cobertura mediática: aproximación al aprendizaje de máquina supervisado. Convergencia Revista de Ciencias Sociales, 1-27.
Mortensen, M., & Jerslev, A. (2014). Taking the extra out of the extraordinary: Paparazzi photography as an online celebrity news genre. International Journal of Cultural Studies, 17(6), 619-363. doi:https://doi.org/10.1177%2F1367877913503425
Moya, E. (2018). Cuadernos de Estrategia 197. La posverdad. Seguridad y defensa. In Instituto Español de Estudios Estratégicos, Redes sociales y posverdad en el devenir de los Estados (pp. 107-157). Madrid: Ministerio de Defensa. Retrieved from https://www.ieee.es/Galerias/fichero/cuadernos/CE_197.pdf
Neuendorf, K. (2002). The Content Analysis Guidebook. California: Sage Publications.
Neuman, R., Just, & Crigler, A. (1992). Common Knowledge. News and the Construction of Political Meaning. University of Chicago Press: Chigago, IL. doi:https://doi.org/10.1177%2F027046769401400211
Noëlle-Neumann, E. (1995). La espiral del silencio. Opinión Pública: nuestra piel social. Barcelona, Espa-ña: Paidós.
Oñativia, O. (2014). Ucrania: La Bisagra entre Occidente y Oriente. Grupo de Estudios Internacionales Contemporáneos, 1-24.
Ortega, O. (2017, Marzo 26). 'Favorece ignorancia posverdad en México'. (R. Bartra, Interviewer) Re-trieved from Reforma: https://www.reforma.com/aplicacioneslibre/articulo/default.aspx?id=1073899&md5=7845e7a71dbcea097e62df41ab3a5bd9&ta=0dfdbac11765226904c16cb9ad1b2efe
Patterson, T. (1990). Out of Order. New York: Vintage.
Pecourt, J. (2015). La esfera pública digital y el activismo político. Política y Sociedad, 52(1), 75-98. doi:http://dx.doi.org/10.5209/rev_POSO.2015.v1.n52.45423
Queraltó, R. (2002). Ética y sociedad tecnológica: pirámide y retícula. Argumentos de razón técnica(5), 59-83. Retrieved from http://institucional.us.es/revistas/argumentos/5/art_2.pdf
Rosen, S., & Teeser, A. (1972). Fear og Negative Evaluation and the Reluclance to transmit Bad News. The Journal of Communication, 124-141.
Salmón, E., & Rosales, P. (2014). Rusia y la anexión de Crimea o la crisis de la post Guerra Fría. Revista de la Facultad de Derecho Pontificia Universidad Católica del Perú, 185-204.
Semetko, H., & Valkenburg, P. (2000). Framing European politics: A Content Analysis of Press and Televi-sion News. Journal of Communication, 50(2), 93-109. doi:https://doi.org/10.1111/j.1460-2466.2000.tb02843.x
Telmán, P. (2016). El conflicto en Ucrania. Foro Internacional, 470-502.
Thankachan, K., & Pe., T. (2019). The Reality of Conflict Frames in Media: A Comparative Analysis of News Stories in The Hindu and Dawn with Reference to the Aftermath of Uri Attack. Shanlax International Journal of Arts, Science and Humanities, .
Touraine, A. (1971). La sociedad post-industrial. Barcelona: Ariel.
Trilling, D., Tolochko, P., & Björn, B. (2017). From Newsworthiness to Shareworthiness: How to Predict News Sharing Based on Article Characteristics. Journalism & Mass Communication Quarterly, 94(1), 38-60. doi:https://doi.org/10.1177%2F1077699016654682
Valenzuela, S., Piña, M., & Ramírez, J. (2017). Behavioral Effects of Framing on Social Media Users: How Conflict, Economic, Human Interest, and Morality Frames Drive News Sharing. Journal of Communi-cation, 67(5), 803-826. doi:https://doi.org/10.1111/jcom.12325
Vicente, C., Socia, W., Mogol, E., & Sumanga, G. (1997). Technical writing. Manila: Rex Book Store. Re-trieved from http://tingintingindin.weebly.com/uploads/1/8/3/1/18312609/abcs_of_technical_writing.pdf
Zillmann, D., & Brosius, H.-B. (2000). Exemplification in communication: The influence of case reports on the perception of issues. . New Jersy: Lawrence Erlbaum Associates Publishers.
Zillmann, D., Chen, L., Knobloch, S., & Callison., C. (2004). Effects of Lead Framing on Selective Exposure to Internet News Reports. . Communication Research..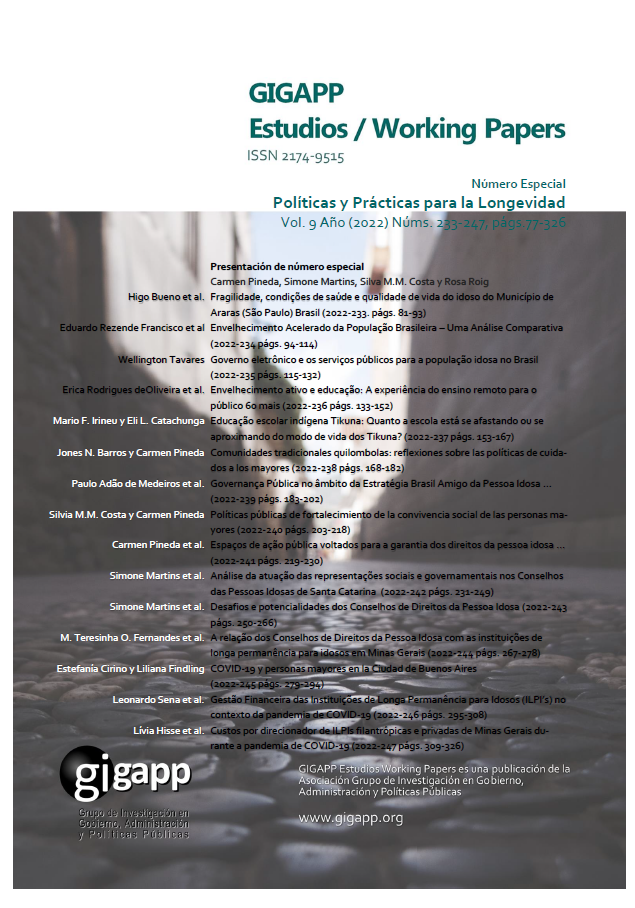 Cómo citar
Lara-Aguiar, J., Mila-Maldonado, J. A., Mora-Noguera, A., & Valle Varela, D. (2023). Enmarcando la Guerra. Agenda Setting y Framing en torno al conflicto bélico Rusia-Ucrania de 2022. GIGAPP Estudios Working Papers, 10(248-255), 77-100. Recuperado a partir de https://www.gigapp.org/ewp/index.php/GIGAPP-EWP/article/view/290
Sección
Artículos/Articles
Derechos de autor 2023 Jhonatan Lara-Aguiar, Dennis Valle Varela, Juan Arturo Mila-Maldonado, Angy Mora-Noguera (Autor/a)
Esta obra está bajo licencia internacional
Creative Commons Reconocimiento-NoComercial-CompartirIgual 4.0
.
Aquellos autores/as que tengan publicaciones con esta revista, aceptan los términos siguientes:
a. Los autores/as conservarán sus derechos de autor y garantizarán a la revista el derecho de primera publicación de su obra, el cuál estará simultáneamente sujeto a la Licencia de reconocimiento de Creative Commons Attribution-NonCommercial-ShareAlike 4.0 International (CC BY-NC-SA 4.0) que permite a terceros compartir la obra siempre que se indique su autor y su primera publicación esta revista.
Con esta licencia de acceso abierto, los lectores (usuarios) pueden:
Compartir — copiar y redistribuir el material en cualquier medio o formato
Adaptar — remezclar, transformar y construir a partir del material

Bajo los siguientes términos:
Atribución — usarios deberán dar crédito de manera adecuada, brindar un enlace a la licencia, e indicar si se han realizado cambios. Puede hacerlo en cualquier forma razonable, pero no de forma tal que sugiera que usted o su uso tienen el apoyo de la licenciante.

NoComercial — usuarios no puede hacer uso del material con propósitos comerciales.

CompartirIgual — Si remezcla, transforma o crea a partir del material, usuarios deben distribuir su contribución bajo la misma licencia del original.

Sin restricciones adicionales: los usuarios no pueden aplicar términos legales o medidas tecnológicas que restrinjan legalmente a otros de hacer cualquier cosa que permita la licencia.
b. Los autores/as podrán adoptar otros acuerdos de licencia no exclusiva de distribución de la versión de la obra publicada (p. ej.: depositarla en un archivo telemático institucional o publicarla en un volumen monográfico) siempre que se indique la publicación inicial en esta revista
c. Se permite y recomienda a los autores/as difundir su obra a través de Internet (p. ej.: en archivos telemáticos institucionales o en su página web) antes y durante el proceso de envío, lo cual puede producir intercambios interesantes y aumentar las citas de la obra publicada. (Véase El efecto del acceso abierto).