Democracy and e-Participation in Latin America and the Caribbean
Resumen
El objetivo del artículo es analizar las implicaciones verificables de las iniciativas de participación electrónica en América Latina y el Caribe. El tema central en juego es si las redes de participación electrónica, desarrolladas para el activismo político en Internet, contribuyen realmente al desarrollo y la legitimidad de las prácticas democráticas. Para responder a esta pregunta se realizó una investigación con el objetivo de mapear y analizar 526 iniciativas de participación electrónica de la región disponibles en la base de datos del proyecto Latinno. Los objetivos específicos incluyeron la identificación de las implicaciones de las iniciativas y sus resultados efectivos; analizar las repercusiones según sus medios y fines desarrollando un análisis comparativo de las implicaciones de las iniciativas con respecto a varias características, como su grado de formalización e influencia en los procesos de toma de decisiones. También fue interesante analizar los resultados no intencionales y los diferentes modos de acción política relacionados con las iniciativas estudiadas. Las iniciativas tienden a consolidar y reforzar las prácticas democráticas; aumentar los canales de comunicación entre el gobierno y los ciudadanos; mejorar las posibilidades de representación ciudadana y fortalecer los mecanismos legales y políticos para el control social. Sin embargo, todavía hay un número significativamente pequeño de iniciativas que muestran resultados efectivos e identificables. Una alta penetrabilidad de las iniciativas en los procesos políticos formales aumenta las posibilidades de que las iniciativas de participación electrónica se conviertan en medios para consolidar y legitimar procesos y prácticas democráticas.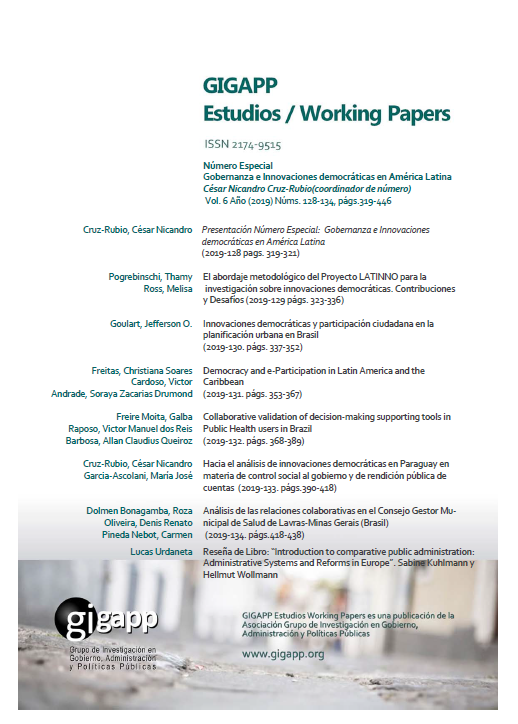 Cómo citar
Freitas, C., Cardoso, V., & Andrade, S. Z. (2019). Democracy and e-Participation in Latin America and the Caribbean. GIGAPP Estudios Working Papers, 6(128-134), 353-367. Recuperado a partir de http://www.gigapp.org/ewp/index.php/GIGAPP-EWP/article/view/157
Derechos de autor 2019 Christiana Soares Freitas, Dra., Victor Cardoso, Soraya Zacarias Drumond Andrade (Autor/a)
Esta obra está bajo licencia internacional
Creative Commons Reconocimiento-NoComercial-CompartirIgual 4.0
.
Aquellos autores/as que tengan publicaciones con esta revista, aceptan los términos siguientes:
Los autores/as conservarán sus derechos de autor y garantizarán a la revista el derecho de primera publicación de su obra, el cuál estará simultáneamente sujeto a la Licencia de reconocimiento de Creative Commons que permite a terceros compartir la obra siempre que se indique su autor y su primera publicación esta revista.
Los autores/as podrán adoptar otros acuerdos de licencia no exclusiva de distribución de la versión de la obra publicada (p. ej.: depositarla en un archivo telemático institucional o publicarla en un volumen monográfico) siempre que se indique la publicación inicial en esta revista.
Se permite y recomienda a los autores/as difundir su obra a través de Internet (p. ej.: en archivos telemáticos institucionales o en su página web) antes y durante el proceso de envío, lo cual puede producir intercambios interesantes y aumentar las citas de la obra publicada. (Véase El efecto del acceso abierto).